Por Tomás Kunz (@TomasKunz_)
90 minutos que pueden definir el año de River. A pesar de estar arrasando en la Liga Profesional 2023 estando punteros, con 10 puntos de diferencia sobre el segundo y a un paso de consagrarse campeón, un equipo tan gigante como el Millonario no puede permitirse quedar afuera de la Copa Libertadores en fase de grupos. Sería una catástrofe y una falta de respeto a la riquísima e inmensa historia que tiene el Club Atlético River Plate.
Sin la presencia de Leandro González Pirez, por una distensión en el bíceps femoral de la pierna izquierda, Matías Suárez, por una recaída de sinovitis en la rodilla izquierda, y Salomón Rondón, por haber sido expulsado con dos fechas, el Millonario buscará repetir nuevamente la excelente imagen que dejó ante Fluminense a principios de junio e intentará quedarse con los tres puntos en su casa y la clasificación a la siguiente instancia.
Toda la información del partido entre River y The Strongest
Posibles formaciones:
River:
Franco Armani; Andrés Herrera o Milton Casco, Robert Rojas o Emanuel Mammana, Paulo Díaz, Enzo Díaz; Enzo Pérez, Rodrigo Aliendro, Ignacio Fernández o Pablo Solari, Nicolás De La Cruz, Esequiel Barco; y Lucas Beltrán.
DT: Martín Demichelis.
The Strongest:
Guillermo Viscarra; Saúl Torres, Gonzalo Castillo, Pablo Pedraza, Carlos Roca; José María Carrasco, Álvaro Quiroga; Eugenio Isnaldo, Michael Ortega, Fabricio Quaglio; Enrique Triverio.
DT: Ricardo Formosinho.
Los convocados de River: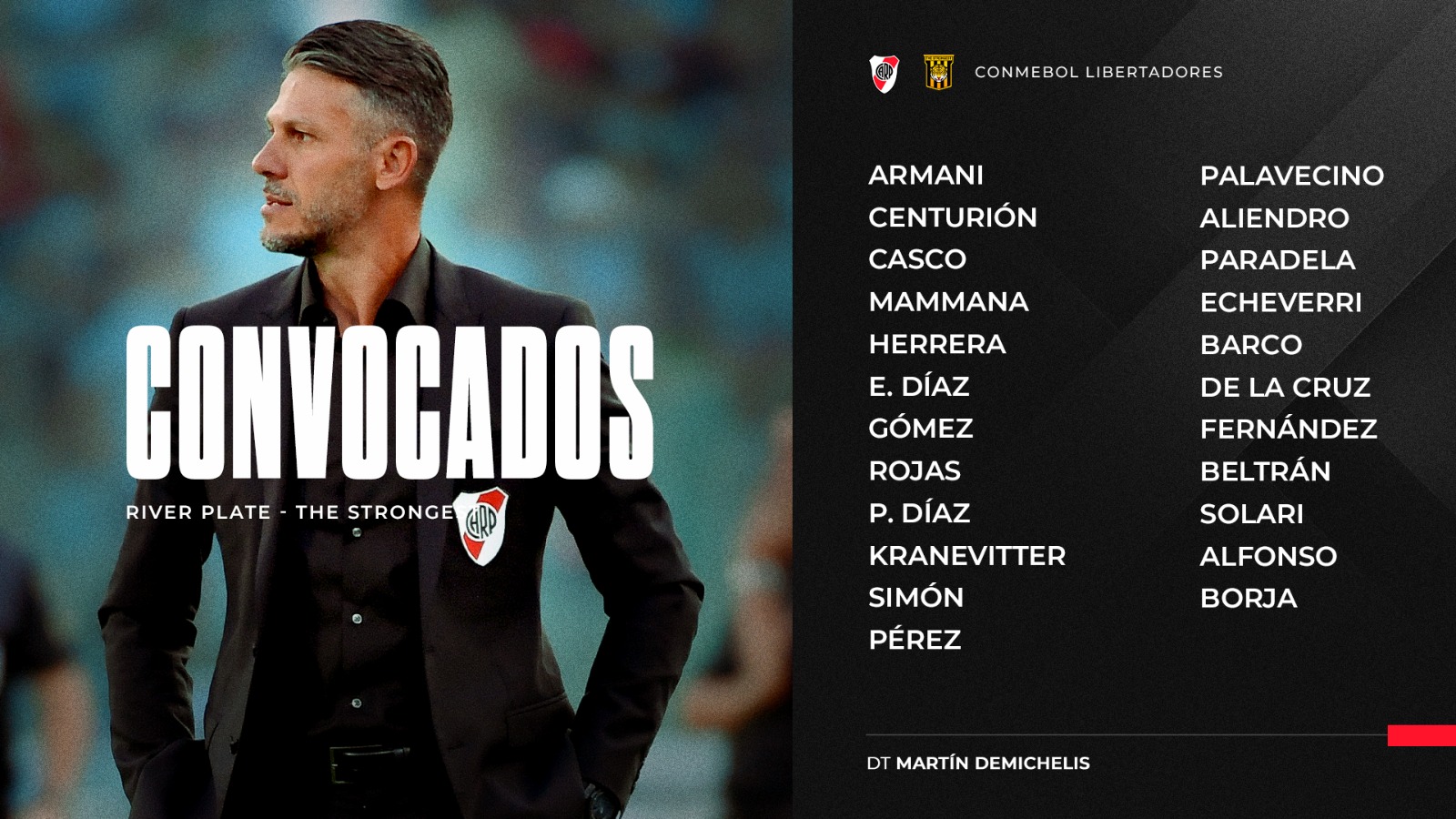 El increíble historial de River ante equipos bolivianos:
El Millonario tiene un récord increíble ante los bolivianos en el cual recibió 15 veces a un equipo de dicho país, ganó en 14 oportunidades y empató una sola (en total, marcó 68 goles -una media de 4,5 por encuentro- y recibió solamente seis), estando así invicto desde 1973. Ese año se dio el primer partido ante Jorge Wilsterman, el último rival boliviano y el más recordado antecedente que terminó con una paliza por 8-0, que le permitió dar vuelta el 0-3 de la ida y clasificar a semis de la Copa en 2017. Una noche de lluvia hermosa en nuestra casa, el partido consagratorio de Nacho Scocco con cinco goles, la corrida infernal de Enzo Pérez en el último gol y una nueva clasificación para estar entre los 4 mejores del continente.
¿Qué necesita el Más Grande para clasificar a los 8vos de final?
Lo que precisa el equipo de Martín Demichelis para avanzar a la siguiente instancia de la Copa Libertadores es simple debido a que solamente tiene dos opciones: una victoria, de la cual no depende de nadie, o un empate, que tendría que mirar de reojo el partido en Brasil entre Fluminense y Sporting Cristal.
En caso de conseguir los tres puntos ante The Strongest, el Millonario recibirá automáticamente la clasificación a los octavos de final (podría ser como primero o segundo dependiendo del resultado entre Fluminense y Sporting Cristal). Si empata con el conjunto boliviano, perderá la posibilidad de clasificar como primero del grupo pero igualmente podría clasificar si el equipo peruano pierde o empata con el Flu en el Maracaná. Esto último, si Sporting no anota tres o más goles que River (ante igualdad en diferencia de tantos, pasa el que tiene más a favor -hoy, el Millonario tiene 9 goles y Cristal 7).
Tabla de posiciones del grupo D:
El historial entre River y The Strongest:
Siete partidos disputados.
River cuatro partidos ganados.
The Strongest un encuentro ganado.
Un cotejo empatado.
Terna arbitral:
El encuentro entre el Millonario y el Aurinegro por la fecha 6 de la Copa Conmebol Libertadores tendrá al uruguayo Gustavo Tejera árbitro principal, que será acompañado por Nicolás Taran (asistente 1), Martín Soppi (asistente 2) y Yender Herrera (cuarto árbitro). Además, en el VAR dirá presente Juan Lara junto a Ángelo Hermosilla, el AVAR (ambos de Chile).
Estadio: Mâs Monumental
Transmisión: Telefe/Star+/Fox Sports